Please browse through our store and shop with confidence for available materials and accessories. You may create an account or shop as a guest. Either way, your shopping cart will be active until you leave the store.
INTERNATIONAL ORDERS
We accept International Orders on our website
Special Offer
We now have packs of 20 solarplates slightly bigger than 4″ x 5″ for sale. Limited time offer! See our solarplate products for more details and ordering.
Dear Loyal Solarplate Customers:
As we continue supplying all of our artists with Solarplates, we are in the process of receiving a shipment of 'LARGER" plates. We don't have the exact sizes yet, but will have them next week. There is a limited supply and they will not be our 'standard' sizes. They will be listed and sold on a 'first come' basis. Meanwhile our huge inventory of 8X10's is supplemented with 4 x 5, 6 x 8, and 8 x 8.
We are still anticipating and hoping for a re manufacturing of the plates. We look forward to processing your orders of Solarplate and offering you our outstanding service.
As a note, our inventory of other products, such as aquatint screens, brushes, magnetic mats, squeegees, and UV Lightboxes remains completely unchanged. We thank you for your continued support.
Happy Printmaking!
Dan Welden
President, Hampton Editions, Ltd.
Printmaking with SOLARPLATE is a simple approach and safer alternative to traditional etching and relief printing. SOLARPLATE is a prepared, light-sensitive polymer surface on a steel backing for artists to produce fine prints. Since Dan Welden's development of the process in the 1970s, printmakers, painters, photographers, and art teachers interested in multiple impressions have found printmaking with SOLARPLATE an exciting adventure. All one needs is inspiration, a graphic image created on a transparent film (acetate or glass), sun or UV light, and ordinary tap water, and the process is ready to begin. Both positives and negatives can be utilized; intaglio and relief printing techniques can be applied.
Universities and art schools all over the world are using SOLARPLATE as part of their curriculum. The simple, spontaneous approach also makes it faster and more economical for use in professional printmaking workshops and collaborations with artists. Educators are replacing traditional acid techniques with SOLARPLATE due to safety regulations. Being photographic in nature, SOLARPLATE incorporates a broader range of techniques than any other printing medium.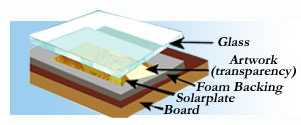 Hampton Editions, Ltd. is the official distributor of SOLARPLATE.
Hampton Editions, Ltd. began as a subsidiary of Welden Graphics, established by Dan Welden in 1971. Collaborative publishing ventures included artists such as Robert Dash, Syd Solomon, Esteban Vicente, Willem de Kooning, Elaine de Kooning, Dan Flavin, Bill King, and Jane Freilicher. The evolution from a studio specializing in Stone Lithography publishing and printing into a workshop dealing with more diverse offerings took place during the 80s and 90s with the SOLARPLATE process gaining more momentum. Since the SOLARPLATE process was Dan Welden's own, he pioneered and promoted health and safety in printmaking since the beginning and is an example of a 'more healthy, old time master printmaker'. Through the 90s and into the 2000s Hampton Editions, Ltd. has printed for artists including Eric Fischl, David Salle, and Lynda Benglis, among others.