Please browse through our store and shop with confidence for available materials and accessories. You may create an account or shop as a guest. Either way, your shopping cart will be active until you leave the store.
INTERNATIONAL ORDERS
We accept International Orders on our website
Dear Loyal Solarplate Customers:
I hope the current times are treating you with good health and a good sense of awareness, especially through your art practices.
Our current situation regarding Solarplates is as follows. We have a ton of 8X10's. 6X8 are dwindling, and we have run out of 4X5.
If you are interested in sizes we have in stock, simply order them as usual. If you wish to purchase 4×5 or sizes that are not currently offered, you have the option of cutting them yourself or paying a cutting charge. It's relatively simple to cut them yourself with a guillotine cutter but it is suggested you cut face up and with proper safety precautions.
If you are using the 'cut off' it must be trimmed with another cut.
Custom cutting can be available to you for an additional $1.50 fee per plate, keeping in mind that the cuts will be slightly smaller (approximately 1/32″) than the dimensions you request. If you are requesting 4X5″ plates, each will cost an extra $1.50. Since it takes additional work, please allow for slightly longer delivery time. Please check the "(Almost) 4" x 5" Solarplate" product to see availability. If you wish odd sizes, you will receive useable cutoffs.
Recommended cutters are the Kutrimmer or the Dahl. They are good, expensive and safer, since they have a clamp.
New Solarplate Information:
We are almost ready to launch the new Solarplates and are still investigating its potential and supply since so much has been changing with our current world pandemic. The good news is that the plate we are working with is the first and 'original' Solarplate that is described in the text "Printmaking in the Sun". The book is out of print but may still be available through Amazon.
If you have any questions about this cutting procedure, please let us know.
Thank you for your continued business and support.
Dan Welden
President, Hampton Editions, Ltd.
Printmaking with SOLARPLATE is a simple approach and safer alternative to traditional etching and relief printing. SOLARPLATE is a prepared, light-sensitive polymer surface on a steel backing for artists to produce fine prints. Since Dan Welden's development of the process in the 1970s, printmakers, painters, photographers, and art teachers interested in multiple impressions have found printmaking with SOLARPLATE an exciting adventure. All one needs is inspiration, a graphic image created on a transparent film (acetate or glass), sun or UV light, and ordinary tap water, and the process is ready to begin. Both positives and negatives can be utilized; intaglio and relief printing techniques can be applied.
Universities and art schools all over the world are using SOLARPLATE as part of their curriculum. The simple, spontaneous approach also makes it faster and more economical for use in professional printmaking workshops and collaborations with artists. Educators are replacing traditional acid techniques with SOLARPLATE due to safety regulations. Being photographic in nature, SOLARPLATE incorporates a broader range of techniques than any other printing medium.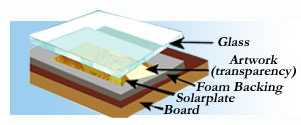 Hampton Editions, Ltd. is the official distributor of SOLARPLATE.
Hampton Editions, Ltd. began as a subsidiary of Welden Graphics, established by Dan Welden in 1971. Collaborative publishing ventures included artists such as Robert Dash, Syd Solomon, Esteban Vicente, Willem de Kooning, Elaine de Kooning, Dan Flavin, Bill King, and Jane Freilicher. The evolution from a studio specializing in Stone Lithography publishing and printing into a workshop dealing with more diverse offerings took place during the 80s and 90s with the SOLARPLATE process gaining more momentum. Since the SOLARPLATE process was Dan Welden's own, he pioneered and promoted health and safety in printmaking since the beginning and is an example of a 'more healthy, old time master printmaker'. Through the 90s and into the 2000s Hampton Editions, Ltd. has printed for artists including Eric Fischl, David Salle, and Lynda Benglis, among others.